Briefs
IGT Charges Aristocrat With Infringing Its Gaming System Patents
November 15, 2010

Gaming technology maker IGT on Nov. 15 filed a suit in the U.S. District Court for the Central District of California charging that Aristocrat Technologies Inc. is infringing its two gaming system patents (IGT v. Aristocrat Technologies Inc., C.D. Cal., No. 10-1748-JVS-MLG, 11/15/10).
In the complaint, IGT asserts that Aristocrat violates one patent (6,620,047) covering an "Electronic Gaming Apparatus Having Authentication Data Sets" and another patent (RE 39,370) covering an "Electronic Casino Gaming System with Improved Play Capacity, Authentication and Security."
"We filed this case because IGT's intellectual property is being knowingly and unfairly exploited by Aristocrat," Robert C. Melendres, IGT's chief legal officer and corporate secretary, said in a press release.
"IGT is the world's leading innovator and creator of intellectual property in the gaming industry."
IGT's complaint was filed by Edward G Poplawski and Paul D Tripodi II of Sidley & Austin, Los Angeles.
Facebook, YouTube and LinkedIn Are Sued for Patent Infringement by Newly Started Virginia Company
November 15, 2010


A newly started company based in Alexandria, Va., has filed a suit against media titans Facebook, YouTube and LinkedIn, charging that they have violated its recently issued patents related to storing, accessing and playing media files (Pragmatus AV LLC v. Facebook Inc., E.D. Va., No. 1:10-cv-01288 (LMB), 11/15/10).
Pragmatus AV LLC filed this suit Nov. 15, only six days after it was issued one patent (7,831,663) on "Storage and Playback of Media Files" and less than a month after it was issued another patent (7,822,813) on "Storing and Accessing Media Files." The third patent (7,730,132) asserted in this case, also covering "Storing and Accessing Media Files," was issued by the U.S. Patent and Trademark Office on June 1, 2010. Pragmatus's complaint states that the company is headquartered in Alexandria, Va., and the domain www.pragmatus.com currently notes that the Website is "under construction."
In the complaint, Pragmatus charges that Facebook Inc. has infringed all three patents by, among other things, providing "social network services that include video Upload, Record and linking features." It further claims that, by engaging in conduct that includes, among other things, providing systems or services that allow users to upload, link to, and comment on videos, YouTube LLC and Photbucket.com Inc. have infringed all three patents. Similarly, Pragmatus's complaint charges that LinkedIn Corp. has infringed the '813 and '663 patents by providing social network services that include video upload and linking features.
Pragmatus was represented by Mark W. Wasserman of Reed Smith LLP, Falls Church, Va.
Read the Pragmatus AV LLC v. Facebook Inc. complaint.
'South Park' Cartoon Makers and Comedy Central Are Accused of Infringing Rights in 'What What (In the Butt)' Video
November 12, 2010


The makers of the "South Park" cartoon and operators of the "Comedy Central" network are being sued for copyright infringement in a U.S. district court by the "What What (In the Butt)" video creator (Brownmark Film LLC v. Comedy Partners, E.D. Wis., No. 2:10-cv-01013, 11/12/10).
In this suit filed on Nov. 12, plaintiff Brownmark Films charges that the makers of the "South Park" cartoon infringed the copyrights in its "What What (in the Butt)" dance video by using it in a scene in a 2008 episode called "Canada on Strike" involving the character Butters. In the scene, Butters sings the "What What …" composition as part of a music video created by himself and his buddies. According to the complaint, "[t]he music video Butters and his friends create is a nearly frame-by-frame recreation of the heart of the audiovisual work 'What What (In the Butt)' created and copyrighted by Brownmark."
Brownmark's YouTube posting of "What What (in the Butt)" enjoys wide notoriety on the Internet, having been viewed more than 34 million times. Still, the complaint asserts that "Canada on Strike" is available on DVD and Blu-Ray as part of the "South Park Season 12 (Uncensored)" distributed by defendant Paramount Pictures Corp. The complaint states that defendants Comedy Partners, MTV Networks, South Park Digital Studios LLC, and Viacom International Inc. have, without Brownmark's consent, prepared a derivative work of "What What (In the Butt)," and thus committed direct infringement under the Copyright Act. The complaint also asserts direct infringement counts for the public performance, public display, reproduction, and distribution of Brownmark's work, and alleges that Comedy Partners, MTV Networks, and Viacom "are vicariously liable for the infringing acts of South Park." It claims that these defendants "had and continue to have the right and ability to supervise South Park's infringing conduct and to prevent South Park from infringing Brownmark's copyrighted audiovisual works," and that they "have a direct financial interest" in the infringement.
Among other things, the complaint asks the court to find "Canada on Strike" willfully infringing, to grant a permanent injunction, to award maximum statutory damages pursuant to 17 U.S.C. §504(c), or, alternatively, actual damages plus profits, and also seeks an award of costs and attorneys' fees.
The suit was filed by Caz McChrystal of Milwaukee.
Catholic University Panel Recaps Federal Circuit's Therasense Oral Argument
November 9, 2010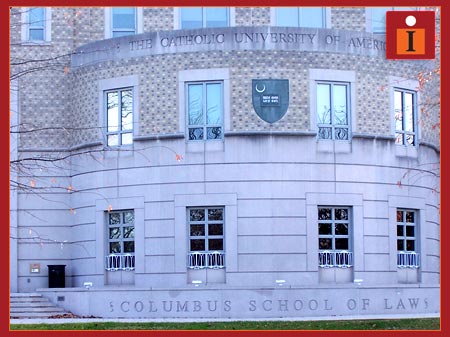 Catholic University's Columbus School of Law on Nov. 9 hosted a panel discussion that revisited some of the points raised during oral arguments earlier in the day on the law of inequitable conduct at the U.S. Court of Appeals for the Federal Circuit in Therasense Inc. v. Becton, Dickinson and Co.
The discussion was moderated by former Federal Circuit Chief Judge Paul Michel, who is now retired. Michel called the argument at the court "a great  discussion." No long speeches or hype, this en banc case was "effective argument at its finest," Michel said.
As reported in an earlier story,  this case tests the scope of the inequitable conduct doctrine where a glucose test strip patent (5,820,551 of Abbott Diabetes Care Inc. and Abbott Laboratories was found unenforceable because Abbott's patent attorney and its head of research and development withheld from the Patent and Trademark Office contradictory statements that they made regarding relevant company prior art in proceedings at the European Patent Office.
Throughout the discussion, John M. Whealan, George Washington University Law School dean, who represented Abbott, was steadfast that inequitable conduct is a severe penalty that is warranted only by very extreme conduct by an applicant or its representative. "Since the relief is killing the patent, the conduct has to be extreme," Whealan insisted. As he had argued earlier in the day in support of Abbott's "but for" theory, Whealan said that the drastic measure of an inequitable conduct finding can only be justified if an applicant's asserted misconduct during prosecution caused the patent to issue. Citing the heightened standard for trademark fraud announced last year by the Federal Circuit in In re Bose, 580 F.3d 1240 (Fed. Cir. 2009), Whealan said there is no reason to treat patent fraud any differently.
However, PTO Solicitor Raymond Chen, who argued the case for the PTO, said that, unlike trademark law, patent law's inequitable conduct doctrine is "not hard-wired into the statute." He stressed the importance of the patent property right and the duty of applicants to come to the agency with clean hands. A "but for" test would undermine the policy of applicants acting in equity with clean hands in exchange for this monopoly right, Chen insisted.
Rachel Krevans of Morrison Foerster, San Francisco, who argued behalf of defendant Bayer Healthcare, was asked by Michel about the problem with a "should have known" intent standard. Krevans said that the en banc court in Kingsdown Med. Consultants, Ltd. v. Hollister Inc., 863 F.2d 867 (Fed. Cir. 1988), rejected that standard, but that it still appears in Federal Circuit cases 22 years later. This fact makes one question whether any standard developed in this case will be observed any differently, Krevans said.
Rohit Singla of Munger, Tolles, & Olson, San Francisco, counsel of record for Abbott in this case, said he was surprised at the level of consensus at oral argument on many issues, such as heightening the intent standard and narrowing the materiality standard. He also noted how the judges seemed very interested in remedying the problem of lawyers frivolously asserting the inequitable conduct defense through sanctions. Still, Michel was doubtful that, with 100 judicial vacancies in the federal district courts, there are enough judges to try sanctions cases pursuant to Fed.R.Civ.P. Rule 11.
When Michel mentioned how the Federal Circuit judges at oral argument inquired as to the number of times the PTO sanctions attorneys for misconduct during prosecution, Chen said that he thinks the number is very low. He said that such a case is more likely to arise if a client has some complaint about how the lawyer represented him or her, not based on conduct like making misrepresentations or withholding references. However, Chen noted that the low number may also be a result of the fact that there is a statute of limitations that bars the PTO from pursuing charges against attorneys after five years.
Read our
Nov. 9 story
summarizing the oral arguments at the court.
United Brands Accuses Anheuser-Busch of Infringing Copyrights and Trademarks Related to "Joose" Malt Beverage Drinks
November 4, 2010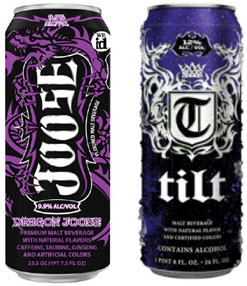 United Brands on Nov. 4 filed a suit in a U.S. federal district court alleging that Anheuser-Busch is infringing the copyrights and trademarks in its "Joose" malt beverage drinks (United Brands Inc. v. Anheuser-Busch Inc., S.D. Cal., No. 10-cv-02281, 11/4/10).
United Brands's complaint asserts that Anheuser-Busch infringes the registered copyrights and trademarks related to the "Joose" malt beverage drink by using confusingly similar elements in a competing drink called "Tilt."
The complaint states that:
Defendant completely changed the design and began selling TILT in cans featuring a dragon design that closely resembles the design of Plaintiff's DRAGON JOOSE cans (see below for new design). Defendant's use of these intentionally similar and infringing design elements is likely to or has caused confusion as to source, affiliation, or connection with Plaintiff, and also constitutes copyright infringement. Plaintiff brings this action to prevent Defendant from infringing Plaintiff's marks and copyrights, and prevent confusion in the marketplace, and to address related state claims.
United Brands was represented by Nancy O. Dix, Christopher James Beal, Brian Behmer, and Christina D. Yates of DLA Piper US, San Diego.
Apple Sues Motorola Over Mobile Device Touch-Screen Technology
October 29, 2010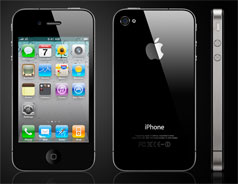 Apple Inc. filed a suit Oct. 29 in the U.S. District Court for the Western District of Wisconsin, charging that various Motorola Inc. smartphone devices infringe the patented touch screen technology embodied in Apple iPhones (Apple Inc. v. Motorola Inc., W.D. Wis, No. 10-CV-661, filed 10/29/10).
Apple's complaint alleges infringement of three patents (7,812,828, entitled "Ellipse Fitting for Multi-Touch Surfaces," 7,663,607, entitled "Multipoint Touchscreen," and 5,379,430, entitled "Object-Oriented System Locator System."
The suit targets products such as Motorola's Droid devices. Specifically, Apple's complaint charges that "Motorola has infringed and continues to infringe, contributorily infringe and/or induce infringement of one or more claims" of each of the asserted patents …,  pursuant to 35 U.S.C. §§ 271(a), (b), (c) and/or (g), either directly or indirectly, literally or under the doctrine of equivalents, by making, using, offering for sale and selling in the United States and by importing in to the United States, without authority, mobile devices and related software including but not limited to the Droid, Droid 2, Droid X, Cliq, Cliq XT, BackFlip, Devour A555, Devour i1, and Charm."
According to the complaint, Motorola's infringement of each patent is "willful and deliberate" and justifies an award of treble damages under Section 284 of the Patent Act, 35 U.S.C. § 284. It further asserts that Motorola's infringement of the patents in this case is "exceptional," warranting an award of attorneys' fees and costs pursuant to 35 U.S.C. § 285.
Apple's complaint was filed by James Donald Peterson of Godfrey & Kahn, Madison, Wis.
Read the Apple Inc. v. Motorola Inc. complaint.
Apotex Is Ordered to Pay Sanofi-Aventis $442 Million for Infringing Plavix Patent
October 19, 2010


The U.S. District Court for the Southern District of New York on Oct. 19 ordered Apotex Inc. to pay Sanofi-Aventis and Bristol-Myers Squibb Sanofi Pharmaceuticals Holding Partnership $442.2 million in damages for infringing the patent on the active ingredient in the Plavix heart drug (Sanofi-Aventis v. Apotex Inc., S.D.N.Y., No. 02 Civ. 2255 (SHS), 10/19/10).
Generic drug maker Apotex was sued by Sanofi and Bristol-Myers for infringing the patent (4,847,265) covering clopidogrel bisulfate, the active ingredient in the blockbuster Plavix drug for treating and preventing strokes and heart attacks.
Validity and infringement findings against Apotex were upheld by the U.S. Court of Appeals for the Federal Circuit in Sanofi-Synthelabo v. Apotex Inc., 550 F.3d 1075 (Fed. Cir. 2008). "The only aspect of this action that remains unresolved is the amount of damages to be awarded plaintiffs," said Judge Sidney H. Stein of the U.S. District Court for the Southern District of New York.
Citing the parties' May 26, 2006 settlement agreement, Stein found that Sanofi and Bristol-Myers were entitled to more than $442 million—50% of the agreed upon net sales figure of $884,418,724. This $884 million figure is the amount of Apotex's net sales resulting from a three-week period in August 2006 during which it "flooded the market with its generic product before being preliminarily enjoined from doing so by this Court," Stein wrote.
Though the parties' settlement agreement was silent as to prejudgment interest, Stein rejected Apotex's argument that the plaintiffs were not entitled to that interest under the Patent Act at 35 U.S.C. § 284, which defines "damages" in patent infringement cases. "While the Settlement Agreement explicitly limits damages, it does not in any way restrict an award of interest on those damages," Stein stressed. Prejudgment interest should be awarded under § 284 absent some justification for withholding such an award, and there is none here, he said. "Apotex has had the use of money Sanofi was entitled to since the patent infringement occurred, and Sanofi deserves complete compensation, Stein said, awarding the $442.2 million, plus prejudgment interest "at the annual prime rate, compounded quarterly, from August 19 2006 until the present—as well as costs and post-judgment interest as set by statute."
Sanofi-Aventis and Bristol Myers were represented by David Noah Greenwald, Evan Chesler, and Richard Stark of Cravath, Swaine & Moore, New York, by Thomas Beck of Sidley Austin, New York, and by Robert Baechtold, John Murnane, and William Ericson Solander of Fitzpatrick, Cella, Harper & Scinto, New York.
Apotex was represented by Allan H. Fried, Manny D. Pokotilow, Bruce Chasan, Mona Gupta, Robert Silver, William Joseph Castillo, William C. Youngblood, James Kozuch, and Kevin Alan Keeling of Caesar, Rivise, Bernstein, Cohen & Pokotilow, Philadelphia, by Anthony F. LoCicero and Karen Jill Bernstein of Amster, Rothstein & Ebenstein, New York, by Robert Breisblatt of Welsh & Katz, Chicago, and by Jonathan Jay Faust of Katten Muchin Rosenman, New York
Read the Oct. 19 Sanofi-Aventis v. Apotex. Inc. ruling.
PTO Reaffirms Validity of TiVo's Time-Warping Patent at Issue in En Banc CAFC Case
October 6, 2010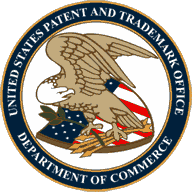 The Patent and Trademark Office on Oct. 6 issued a reexamination ruling reaffirming the validity of the patent at issue in a case that will be argued Nov. 9 at the U.S. Court of Appeals for the Federal Circuit.
In this en banc case, TiVo Inc. v. EchoStar Corp., Fed. Cir., No. 09-1374, EchoStar was found liable for having infringed TiVo Inc.'s  "Multimedia Time Warping System" patent (6,233,389). As noted in our earlier story, this appeal addresses whether a contempt proceeding is the proper setting for determining whether a newly accused device infringes a patent in violation of an injunctive order.
This reexamination decision, the second relating to the '389 patent, was requested by EchoStar in November of 2008—a year after the agency's initial reexamination also finding validity.
Read the PTO's reexamination
ruling
.
Mars, USDA, and IBM Release Preliminary Cacoa Genome Sequence for Public Domain Access
September 15, 2010

Candy maker Mars Inc. on Sept. 15 issued a statement announcing the results of its joint study with the US. Department of Agriculture and IBM on research for the cacao genome sequence that is now open to the public domain.
The maker of the M&M's and Snickers brands stressed that "[t]he results of the research will be made available to the public with permanent access via the Cacao Genome Database  (http://www.cacaogenomedb.org) to ensure the data remains perpetually open without patent, as well as to allow scientists to begin applying the findings immediately to crop cultivation efforts."
"This is the result of a joint research endeavor to improve the cocoa growing process and represents a successful private/public partnership for the benefit of the world's cocoa farmers, and a more sustainable world cocoa supply," the Mars press release stated. It noted that the research will benefit more than 6 million farmers around the world, particularly in West Africa where more than 70 percent of the world's cocoa is produced. While these farmers' livelihoods depend on cocoa crops, "cocoa crops have always been plagued by serious global losses from pests and diseases, and to date, there has been very little investment in scientific research to improve the cacao tree."
"As the global leader in cocoa science, we understand the importance of not only investing in this research, but making it publicly available for all to benefit," said Howard-Yana Shapiro, Ph.D., Mars's global head of plant science and research. Ajay Royyuru, senior manager of IBM's Computational Biology Center, said that "[b]y assembling the sequence fragments into the complete genome sequence and developing a detailed genetic map, we can help maximize the potential yield and income for cocoa farmers and catalyze future research and endeavors involving the cacao tree."
Go to the Mars press release.
Register of Copyrights Marybeth Peters to Retire in December 2010
September 13, 2010

The U.S. Copyright Office said in a statement Sept. 13 that Register of Copyrights Marybeth Peters has announced her intention to retire effective December 31, 2010.
Ms. Peters has served as Register of Copyrights since August 7, 1994, after first joining the Copyright Office in 1966. During her career, Ms. Peters has held positions at all levels in the Office, including acting general counsel, policy planning advisor, chief of the examining division, chief of the Information and reference division, attorney-advisor, and music examiner. From 1989 to 1990, she also served as a consultant to the World Intellectual Property Organization in Geneva.
The Library of Congress has posted a vacancy announcement for the position.
In Turf Battle Over Rubber Mulch, Fact Issues Preclude Patent Being Invalidated for Failure to Disclose Best Mode
September 7, 2010
A patent claiming a colored synthetic mulch was improperly held invalid because fact issues remain as to whether it fails to disclose best mode under Section 112, ¶1 of the Patent Act, the U.S. Court of Appeals for the Federal Circuit ruled Sept. 7 (Green Edge Enterprises LLC v. Rubber Mulch Etc. LLC, Fed. Cir., No. 2009-1455, 9/7/10).
In this case, Green Edge Enterprises LLC appealed a district court's summary judgment that its synthetic mulch patent (5,910,514) is invalid for failing to disclose "the best mode contemplated by the inventor of carrying out his invention," as required under Patent Act Section 112, ¶1, 35 U.S.C. 112, ¶1.
Compliance with the best mode requirement is a two-pronged inquiry, examining: (1) whether, at the time the patent application was filed, the inventor possessed a best mode of practicing the claimed invention; and (2) if the inventor has a subjective preference for one mode over all others, whether the inventor "concealed" the preferred mode from the public.
Finding no dispute that the inventors here possessed a best mode, the appellate court focused on whether their reference to a "Visichrome" product made by "Futura" in describing the claimed mulch amounted to concealment as this product did not actually exist. The district court had agreed with defendant Rubber Mulch Etc. LLC that the inventors engaged in concealment because they actually used Futura Coatings Inc.'s product number "24009," which was not cited in the patent.
However, the Federal Circuit concluded that evidence supplied by Green Edge—a 1997 letter from Futura's vice president (Jarboe) referring to "Visichrome"—created a genuine issue of material fact precluding summary judgment on the failure to disclose best mode. "The Jarboe letter, viewed in a light most favorable to Green Edge, shows that at the time of filing, a person of ordinary skill could have contacted Futura, inquired of the identity of Visichrome, and been led to the 24009 product," Judge Alan D. Lourie wrote. "Such a determination should be made by the district court, not by this court," he said, reversing and remanding the summary judgment of invalidity.
Continuing, the Federal Circuit found no error in the district court's refusal to grant summary judgment of invalidity based on anticipation, obviousness, indefiniteness, or nonenablement.
The opinion was joined by Chief Judge Randall R. Rader and Judge William C. Bryson. Green Edge was represented by Joe D. Jacobson of Green Jacobson, Clayton, Mo. Rubber Mulch was represented by Ronald D. Foster of Ronald Foster, P.C., South Bend, Ind.
Read the Green Edge Enterprises LLC v. Rubber Mulch Etc. LLC opinion.
Licensing Company Owned by Microsoft Founder Paul Allen Sues Google, Apple, AOL and Others for Patent Infringement
August 27, 2010

A licensing company owned by Microsoft co-founder Paul Allen on Aug. 27 filed a patent infringement suit charging that Internet titans Google Inc., Apple Inc., and Facebook Inc. have infringed its technologies (Interval Licensing LLC v. AOL Inc., W.D. Wash., No. 2:10-cv-01385, 8/27/10).
Interval Licensing LLC, the owner of 300 technology patents, is owned and controlled by Microsoft co-founder Paul Allen, who, along with David Liddle, has conducted and funded research projects through Interval Research Corp. Interval Licensing's complaint notes that Interval Research has been at "the forefront in designing next-generation science and technology." It cites the example that "Interval Research served as an outside collaborator to and provided research funding for Sergey Brin and Lawrence Page's research that resulted in Google."
According to the complaint, AOL Inc., Apple, eBay, Google, Netflix Inc., Office Depot Inc., OfficeMax Inc., Staples Inc., Yahoo! Inc., and YouTube LLC have infringed a patent (6,263,507 covering a "Browser for Use in Navigating a Body of Information, With Particular Application to Browsing Information Represented By Audiovisual Data." The defendants, the complaint states, infringe this patent by "making and using websites, hardware, and software to categorize, compare, and display segments of a body of information as claimed in the patent."
The complaint also asserts that AOL, Apple, eBay, Facebook, Google, Netflix, Office Depot, OfficeMax, Staples, Yahoo, and YouTube have infringed another patent 6,757,682 for "Alerting Users to Items of Current Interest" by "making and using websites and associated hardware and software to provide alerts that information is of current interest to a user as claimed in the patent."
The complaint also charges that AOL, Apple, Google, and Yahoo have infringed two patents (6,034,652 and 6,788,314) covering an "Attention Manager for Occupying the Peripheral Attention of a Person in the Vicinity of a Display Device" by "making, using, offering, providing, and encouraging customers to use products that display information in a way that occupies the peripheral attention of the user as claimed in the patent."
The complaint requests damages, injunctive relief, and attorneys' fees.
The suit was filed by Justin Nelson and Matthew Berry of Susman & Godfrey, Seattle, by Max Tribble of Susman & Godfrey, Houston, and by Michael Heim, Eric Enger, and Nathan Davis of Heim, Payne & Chorush, Houston.
Read the
Interval Licensing LLC v. AOL Inc.
complaint
.
In Two Separate Appeals, CAFC Finds That Certain Electrical Circuit Devices Are Noninfringing, Do Not Violate Tariff Act
August 27, 2010

The import and sale of certain electrical circuit interrupters will not violate § 337 of the Tariff Act of 1930 because the devices do not possess the features of asserted patented devices and thus are noninfringing, the U.S. Court of Appeals for the Federal Circuit ruled Aug. 27 in two related appeals (Pass and Seymour Inc. v. International Trade Commission, No. 2009-1338, 8/27/10) and General Protecht Group Inc. v. International Trade Commission, Fed. Cir., No. 2009-1378, 8/27/10).
Pass and Seymour inc. filed a complaint with the International Trade Commission, claiming that § 337 of the Tariff Act of 1930 was violated by the import and sale of infringing electrical circuit interrupters made by General Protecht Group Inc., Wenzhou Trimone Science & Technology Electric Co., Ltd., and Shanghai Ele Manufacturing Co.
In the first appeal, No. 2009-1338, Pass and Seymour challenged the ITC's ruling that two of its patents (5,594,398 and 7,212,386) were not infringed, and that there was no violation of the Tariff Act.
Affirming that ruling, the Federal Circuit agreed with the ITC's determination that the "mounting means" limitation in the '398 patent requires that each of the contacts moves from its first position into a spaced, circuit breaking relation with respect to each of its respective terminals, and that the accused products do not both move into a spaced second position. Further, it agreed that the '386 patent requires that the circuit interrupter be configured to trip in response to an actuator signal in the reset state, and that the accused products lacking such a circuit do not infringe.
This opinion was joined by Judges Timothy B. Dyk and Pauline Newman.
In her concurring opinion, Newman agreed with the noninfringement result and the claim construction of the '398 patent, but argued that her colleagues "strayed from the Commission's correct rulings" and misconstrued the term "circuit interrupter" in the '386 patent.
The second appeal involved the '398 patent and two other patents (7,283,340 and 7,164,564). General Protecht appealed the ruling that it infringed the '398 patent and the '340 patent, Wenzhou Trimone appealed the ruling that it infringed the '340 patent, and Shanghai Ele challenged the holding that its devices infringed all three patents.
In this opinion, Judge Dyk, joined by Judge Prost, cited three errors by  the ITC and held as follows: 1)  that General Protecht's devices do not infringe the '340 patent because they lack the claimed "detection circuit"; 2) that Wenzhou Trimone's devices do not infringe the '340 patent because receptacle outlets do not fall within the claimed "load terminals" limitation; and 3) that General Protecht's devices do not infringe the '398 patent they perform the claimed "latching means" function in a substantially different way than the structure disclosed in the patent.
The ITC's judgment was affirmed in part, reversed in part, and remanded.
Dissenting, Judge Newman said that her colleagues showed deference to the ITC in the first appeal, but here chose to "act de novo to reverse the Commission's findings of infringement." In this appeal, she said, "[t]his court now finds its own facts, applies theories that were not raised by any party, uses incorrect standards of review, and creates its own electrical technology contrary to the uniform and unchallenged expert testimony."
Pass and Seymour was represented by Mark J. Abate of Goodwin Procter, New York. The International Trade Commission, Washington, D.C., was represented by Paul M. Bartkowski, Office of the General Counsel. General Protecht was represented by William F. Long of Sutherland Asbill & Brennan, Atlanta. Wenzhou Trimone Science & Technology was represented by Reece W. Nienstadt of Mei & Mark, Washington, D.C. Shanghai Ele Manufacturing was represented by Tony D. Chen of Caywin Law Group, Los Angeles.
Read the Pass and Seymour Inc. v. International Trade Commission opinion.
Read the
General Protecht Group Inc. v. International Trade Commission
opinion
.
China Film Copyright Association Will Charge Screening Fees to Fight Piracy
August 26, 2010
The China Daily newspaper in Beijing reported on Aug. 26 that the China Film Copyright Association (CFCA) will begin charging Internet cafes, long-distance buses and other distributors for screening Chinese movies starting October in order to fight copyright infringement.
CFCA, a non-profit organization, has submitted a proposal to the National Copyright Administration (NCA) listing a standard for collecting copyright royalties. Shi Wenxia, a spokesperson for the CFCA, said that the association's members will share 90 percent of the royalties collected and that the remaining 10 percent will be kept for management fees.
Noting that the association has 62 members who own a majority of the domestic films, Shi said that the proposed distribution of copyright royalties "is not fixed, as we may balance the interests among different sectors to satisfy the members." Shi acknowledged that there will be obstacles in collecting copyright royalties, but said "we have faith in regulating the industry and beating piracy".
Read the China Daily's story on this development.
Marina Biotech Gets Patent on Amphoteric Liposome Delivery
August 24, 2010

Marina Biotech on Aug. 24 announced that the U.S. Patent and Trademark Office issued the company a patent (7,780,983 covering processes for preparing amphoteric liposomes. These novel liposomal vectors are designed to release their nucleic acid payload within the target cell where the nucleic acid can then engage a number of biological pathways including the RNA interference pathway and thereby exert a therapeutic effect.
"This patent, covering amphoteric liposomal delivery, is a significant addition to our existing RNA delivery intellectual property estate," said J. Michael French, Marina Biotech's President and CEO. "We will continue to expand our IP position by aggressively seeking issued claims and developing additional novel formulations for safe and effective systemic and local delivery of RNA-based therapeutics."
Read Marina Biotech's Aug. 24 press release.
For more information on Marina Biotech, please visit http://www.marinabio.com/about_marina
PTO Issues Sidense a Patent on "Anti-Fuse Memory Cell"
August 20, 2010

Canada's Sidense Corp. Aug. 20 announced that the U.S. Patent and Trademark Office granted the company a patent 7,755,162, covering an "Anti-fuse Memory Cell." The '162 patent  "adds to the Company's fast growing patent portfolio covering its 1T-FuseTM memory technology,"  and the 1T-Fuse Split-Channel bit cell "is at the heart of its secure, reliable and cost-effective non-volatile, one-time programmable (OTP) memory IP products," Sidense's press release stated.
"This new patent on our anti-fuse memory technology reflects our constant strive to innovate and improve performance of our high-density OTP IP for the advanced CMOS processes," said Wlodek Kurjanowicz, Sidense Founder and CTO. "Patents are very important to Sidense and reinforce the value and uniqueness of Sidense memory IP to our customers."
To learn more about Sidense, please go to: http://www.sidense.com/
<< Start < Prev 1 2 3 4 5

6

7 8 Next > End >>


Page 6 of 8