Briefs
President Obama Exhorts Protection of U.S. Products in State of the Union Address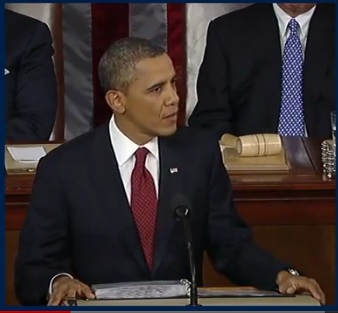 January 24, 2012
President Barack Obama in his Jan. 24 State of the Union address called for greater protection of U.S. products to expand U.S. business markets and announced the creation of "a Trade Enforcement Unit that will be charged with investigating unfair trading practices in countries like China."
The president recognized the achievement of the recently passed U.S.-Panama, U.S-Colombia, and U.S.-South Korea trade agreements and said that more work lies ahead to ensure fairer treatment for U.S. products and businesses in other foreign markets. He also offered a stern warning for countries that allow piracy, counterfeiting, and other types of unlawful trade practices.
Kodak, Leading Innovator of Camera Technology, Files for Chapter 11 Bankruptcy

January 19, 2012
Eastman Kodak Co., the company that George Eastman founded and led to innovations in photography and imaging, issued a statement Jan. 19 announcing that it is seeking Chapter 11 bankruptcy protection.
As noted in an earlier story, Kodak had stated in November that it expected proceeds from the future sale of digital imaging patents to "materially increase" its cash balance. "The business reorganization is intended to bolster liquidity in the U.S. and abroad, monetize non-strategic intellectual property, fairly resolve legacy liabilities, and enable the Company to focus on its most valuable business lines. The Company has made pioneering investments in digital and materials deposition technologies in recent years, generating approximately 75% of its revenue from digital businesses in 2011," the company said in the Jan. 19 announcement.
In the Wake of Blackout Protests, FBI Shuts Down Megaupload for Massive Online Copyright Infringement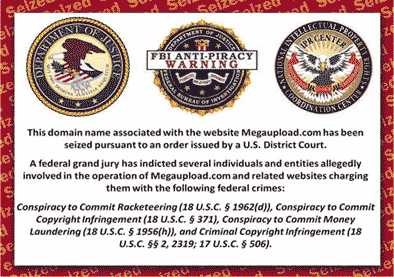 January 19, 2012
One day after Internet websites like Wikipedia and Google protested the SOPA and PIPA anti-piracy bills with a "Blackout Day," the Federal Bureau of Investigation Jan. 19 shut down Megaupload.com and related sites based on a Jan. 5 federal grand jury indictment in one of "the largest criminal copyright cases ever brought by the United States," the U.S. Department of Justice announced.
Wikipedia, Google, Wired and Others Protest Anti-Piracy Measures With Site Blackouts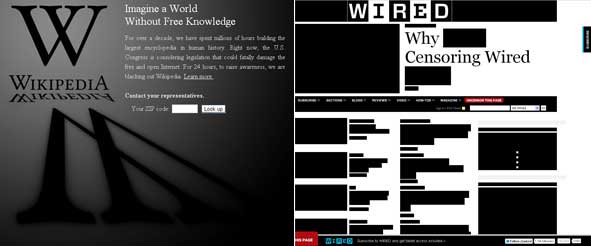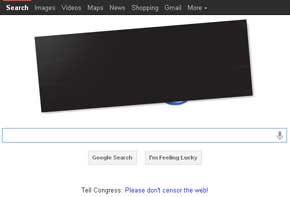 January 18, 2012
While Internet sites such as Wikipedia, Google, and Wired on Jan. 18 protested recent congressional anti-piracy legislation by joining in a "Blackout Day" against measures they denounce as censorship, former U.S. Senator Christopher Dodd, now chairman and CEO of the Motion Picture Association of America (MPAA), rejected the blackout as a mere publicity stunt that draws public attention away from the real issue—combating Internet piracy.
Google's blacked-out site urges visitors to "Tell Congress: Please don't censor the web!"
In a Historic Move, Russia Is Formally Invited to Join the WTO

December 26, 2011
Ministers at the World Trade Organization's 8th Ministerial Conference in Geneva, Switzerland, on Dec. 16 formally invited the Russian Federation to join the WTO. This move comes after many years of contentious bargaining, and the WTO statement announcing the accession expresses hope that "Russia's accession to the WTO will strengthen the multilateral trading system, making the WTO a more universal organization."
Smith and Leahy Get "Policymaker of the Year" Honors for Work on Patent Reform Bill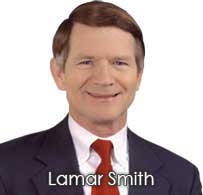 December 6, 2011
House Judiciary Committee Chairman Lamar Smith (R-Tex.) and Senate Judiciary Committee Chairman Patrick Leahy (D-Vt.) were given "Policymaker of the Year" honors in technology by the Capitol Hill publication POLITICO on Dec. 6 for their work in enacting patent reform legislation in 2011.  POLITICO honored Smith and Leahy at an event in Washington, D.C., in recognition of their efforts on the America Invents Act (H.R. 1249), the most important patent legislation in the United States since the 1952 Patent Act.
Other policymakers honored at the event included Environmental Protection Agency Administrator Lisa Jackson, Policymaker of the Year in energy; and Representative Paul Ryan (R-Wisc.), Policymaker of the Year in health care.
Bipartisan, Bicameral Legislation Is Introduced to Enhance Penalties for Drug Counterfeiting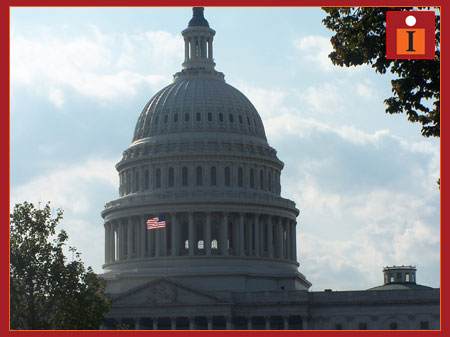 November 17, 2011
Congressional Democrats and Republicans on Nov. 17 introduced the ''Counterfeit Drug Penalty Enhancement Act of 2011,'' bicameral legislation to increase criminal penalties for those convicted of trafficking in counterfeit drugs.
Under the bill, H.R. 3468, individuals may be imprisoned for life and fined up to $4 million for a single offense, and up to $8 million for multiple offenses. Companies found in violation of this legislation can face up to $10 million for a single offense, and up to $20 million for multiple offenses.
PTO Announces Opening of Exhibit Celebrating Inventions of Steve Jobs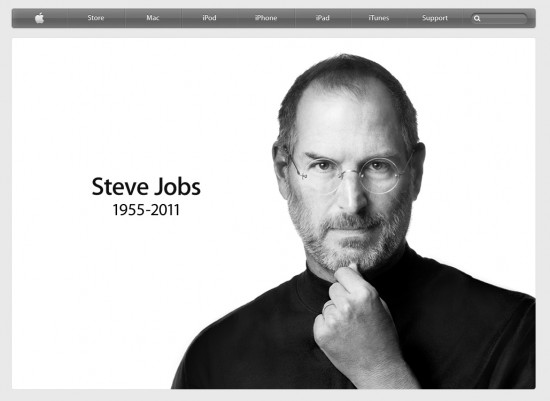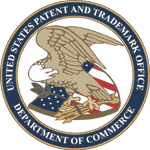 November 14, 2011
In celebration of the inventive life of Apple co-founder Steve Jobs, the U.S. Patent and Trademark Office on Nov. 14 announced the opening of a new exhibit: The Patents and Trademarks of Steve Jobs: Art and Technology that Changed the World. The free exhibit will open to the public on Nov. 16 at the USPTO's campus in Alexandria, Va.
Ericsson Looks to Exercise its Patent Licensing Power

November 9, 2011
Following the recent announcement of the deal to sell its stake of SonyEricsson to Sony for 1.05 billion euros, Ericsson on Nov. 9 said in a press release that it intends to start leveraging the power of its wireless patent portfolio to generate income.
The company said in its press release that, following the divestment of SonyEricsson, "patents and licensing will become a key revenue area with growth opportunities." The press release said that industry fundamentals "remain strong" and that Ericsson "expects coverage build-outs of mobile broadband in the coming years."
In 3rd Quarter 2011 Report, Kodak Expects Digital Imaging Patent Portfolio Proceeds to 'Materially Increase' Cash Balance

November 3, 2011
A Nov. 3 press release on Eastman Kodak Co.'s third quarter 2011 report states that the company expects proceeds from the future sale of digital imaging patents to "materially increase" its cash balance.
Struggling for years in its traditional areas of film and digital cameras products, the company has shifted its focus new to "core digital growth businesses – Consumer and Commercial Inkjet, Workflow Software & Services, and Packaging Solutions." These core areas, it reported "increased 13%, fueled by 44% revenue growth in Consumer Inkjet printers and ink, and 89% revenue growth in Packaging Solutions."
The International Intellectual Property Alliance Releases 2011 Copyright Industries Report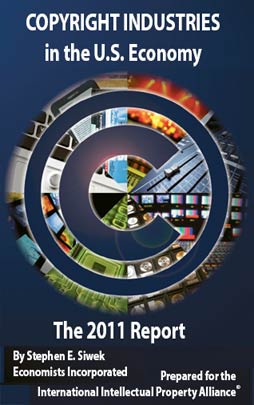 November 2, 2011
The International Intellectual Property Alliance on Nov. 2 released its 2011 study on the contributions that copyright industries make to the U.S. economy.
The study, Copyright Industries in the U.S. Economy: The 2011 Report, was made public today at an event held on Capitol Hill with Senators Sheldon Whitehouse (D-RI) and Orrin Hatch (R-UT), and Representatives Bob Goodlatte (R-VA) and Adam Schiff (D-CA), leaders of the Congressional International Anti-Piracy Caucus (IAPC) and prepared for the IIPA by Stephen Siwek of Economists Incorporated.
Sony Buys Out Ericsson's Stake in Sony Ericsson, Gets Broad IP Cross-Licensing Deal and Ownership of Five Key Wireless Patent Families


October 27, 2011
Wireless giant Ericsson on Oct. 27 announced that Sony Corp. is buying its stake in the Sony Ericsson joint venture for 1.05 billion euros in cash and getting broad IP cross-licensing and ownership of five key patent families covering wireless handset technology.
According to Ericsson's press release, the deal also "gives Sony an opportunity to rapidly integrate smartphones into its broad array of network-connected consumer electronics devices - including tablets, televisions and personal computers - for the benefit of consumers and the growth of its business."
As Congress Passes Trade Agreements With South Korea, Panama, and Colombia, IP Enforcement Issues Must Be Watched Closely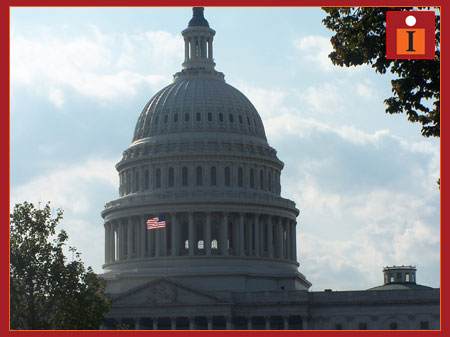 October 12, 2011
The U.S. Congress on Oct. 12 approved key trade agreements with South Korea, Colombia, and Panama to support American jobs, expand markets and enhance U.S. competitiveness. The passage of the trade agreements was widely cheered in the business community, but intellectual property (IP) enforcement practices in these countries must be watched closely if U.S. IP owners and workers are to indeed receive the full intended benefit of these agreements.
The agreement with South Korea, the agreement with Colombia, and the agreement with Panama have been hailed in the U.S. business community as a win for U.S. manufacturers, workers, and the U.S. economy. Also accompanying these agreements are Trade Adjustment Assistance (TAA) reforms to provide training and support for negatively impacted American workers who seek to transition to alternative employment.
PTO Issues the 500th Patent Through Its Green Technology Pilot Program to General Electric

October 5, 2011
General Electric Co. is the owner of the 500th patent issued through the U.S. Patent and Trademark Office's Green Technology Pilot Program, the agency announced Oct. 5. GE was issued this patent (8,029,241) for its invention entitled a "Wind Turbine Rotor Blade with Aerodynamic Winglet."
Steve Jobs, Apple Co-Founder and Innovative Genius, Dies at 56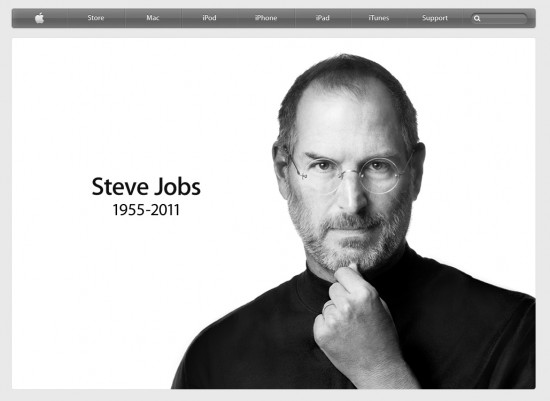 October 5, 2011
Steven P. Jobs, the computer pioneer who co-founded Apple Inc. with Steve Wozniak and designed some of the world's most innovative inventions, died on Oct. 5 of pancreatic cancer. Jobs, only 56 years of age, revolutionized the computing, music and cellphone industries and leaves the world with an incredible array of iconic creations such the Macintosh, the iPod, the iPad, and iPhone.
Steve Jobs is the innovative genius, who, with Wozniak, who gave us the Apple I, the Apple II, the Macintosh, and the concept of personal computing. When recording industry executives were scratching their heads over a business model for digital music, he changed the music industry by creating the iPod and iTunes. As smartphone users of devices such as the Blackberry thumbed messages via a keyboard, Jobs gave us a smarter phone that employed a touchscreen instead of a keyboard—the iPhone. With more than 300 patents and hundreds of millions of customers, Jobs was an incredible visionary, a smart marketer, and a driven executive who made the world think differently and see technology, business, and art through his lens—his genius.
U.S. and 7 Other Countries Sign Anti-Counterfeiting Agreement in Tokyo

October 1, 2011
The United States and seven other countries on Oct. 1 signed the Anti-Counterfeiting Trade Agreement (ACTA) at a ceremony today in Tokyo, joining forces in the international battle against trademark counterfeiting and copyright piracy.
"Protecting intellectual property is essential to American jobs in innovative and creative industries. The ACTA provides a platform for the Obama Administration to work cooperatively with other governments to advance the fight against counterfeiting and piracy," said U.S. Trade Representative Ron Kirk said of the signing. "Today marks a major milestone in the process of putting this Agreement into force."
<< Start < Prev 1

2

3 4 5 6 7 8 Next > End >>


Page 2 of 8