DuPont Scientist and Kevlar Inventor Stephanie Kwolek Dies at 90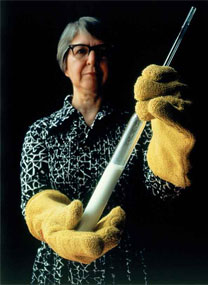 June 19, 2014
Stephanie Kwolek, a pioneering scientist at E.I. DuPont de Nemours and Co. and inventor of Kevlar®, has died at 90 years old, the company announced in a June 19 press release.
DuPont Chair and CEO Ellen Kullman in a statement expressed sadness and hailed Ms. Kwolek as "a creative and determined chemist and a true pioneer for women in science. Her synthesis of the first liquid crystal polymer and the invention of DuPont™ Kevlar® highlighted a distinguished career."
Kullman went on to note that Kwolek became the third DuPont scientist to win the National Medal of Technology or of Science in 1996. "She leaves a wonderful legacy of thousands of lives saved and countless injuries prevented by products made possible by her discovery," said Kullman.
Kwolek, a native of Pittsburgh, earned a chemistry degree from what is now Carnegie Mellon University. She is a named inventor on a line of DuPont patents dating back to the 1960s.
These U.S. patents include 3,063,966, which covers a "Process of Making Wholly Aromatic Polyamides;" 3,094,511, covering "Wholly Aromatic Polyamides;" 3,287,323, for a "Process for the Production of a Highly Orientable, Crystallizable, Filament-Forming Polyamide;" 3,322,728, which covers "Sulfonyl Aromatic Polyamides;" 3,328,352, for "Fluorine Containing Aromatic Polycarbonamides;" and 4,608,427 covering a "Method for Making PBO and PBT polymers."
"DuPont scientists struggled to develop a stiffer and tougher nylon-related fiber until 1965, when Kwolek broke the deadlock by devising a liquid crystal solution that could be cold-spun. Her discovery ultimately resulted in the commercialization of Kevlar, a fiber that is five times stronger than the same weight of steel," says the company's website. Since the 1980s, the material has been used in an array of applications, such as police and military body armor, diving suits, and cut-resistant gloves.
---