Senator Harry Reid Slams the 'Redskins' Mark as Racist and Hateful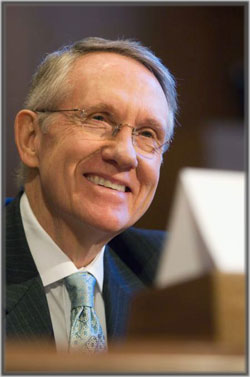 April 30, 2014
U.S. Senator Harry Reid (D-Nev.) in an April 30 speech on the Senate floor called the Washington "Redskins" football trademark racist and hateful and asked the NFL leadership to force the team to change its name.
In his speech, Senator Reid implored National Football League Commissioner Roger Goodell to follow the lead of National Basketball Association Commissioner Adam Silver and take strong action against this example of "racism" in the NFL. Reid was referencing Silver's quick action in banning Los Angeles Clippers owner for racist statements recently attributed to him regarding African-Americans. Numerous groups of Native Americans have long considered "Redskins" a racial slur and have battled the football team over the use of its trademarks for decades. Reid is joining them in this latest fight and is asking the NFL leadership to finally take a stance on this matter.
Reid concluded as follows:
For far too long the NFL has been sitting on its hands, doing nothing while an entire population of Americans has been denigrated. I say to Commissioner Roger Goodell, it is time to act. Remove this hateful term from your league's vocabulary. Follow the NBA's example and rid the league of bigotry and racism. Your fans will support it.
---