The International Intellectual Property Alliance Releases 2011 Copyright Industries Report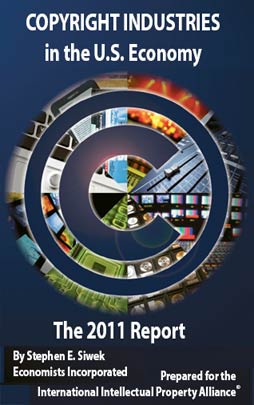 November 2, 2011
The International Intellectual Property Alliance on Nov. 2 released its 2011 study on the contributions that copyright industries make to the U.S. economy.
The study, Copyright Industries in the U.S. Economy: The 2011 Report, was made public today at an event held on Capitol Hill with Senators Sheldon Whitehouse (D-RI) and Orrin Hatch (R-UT), and Representatives Bob Goodlatte (R-VA) and Adam Schiff (D-CA), leaders of the Congressional International Anti-Piracy Caucus (IAPC) and prepared for the IIPA by Stephen Siwek of Economists Incorporated.
Some key findings of IIPA's 2011 study:
In 2010, the value added by the core copyright industries was

$931.8 billion

or

6.36% of the U.S. economy

.
Despite the difficult recessionary period of 2008-2009, the core copyright industries fared better than the rest of the U.S. economy during 2007-2010, growing at an

aggregate annual rate of 1.10%

.
The core copyright industries employed nearly 5.1 million workers in 2010. (This figure represents 3.93% of the entire U.S. workforce, and 4.75% of the country's total private employment)
The annual 2010 compensation paid to core copyright workers

, $78,128

, far exceeds the average annual compensation of

$61,404

paid to all U.S. workers. (This figure represents a compensation premium of 27 percent.)
Sales of U.S. copyright products in overseas markets amounted to

$134.0 billion

in 2010, a significant increase over previous years. (This number, according to IIPA, far exceeds foreign sales of other U.S. industries such as aircraft ($77.5 billion), automobiles ($49.8 billion), agricultural products ($60.2 billion), food ($51.9 billion) and pharmaceuticals ($36.4 billion).
"The 2011 edition of our study shows once again how significantly the U.S. copyright industries contribute to U.S. jobs, wages, economic growth, and international competitiveness," Steven J. Metalitz of IIPA said in a press release "The analyses released today, based on U.S. government data, demonstrate the vibrancy of copyright and creativity as an engine for growth for the U.S. economy."
Read the IIPA's study,
Copyright Industries in the U.S. Economy: The 2011 Report.
---