President Obama Signs Historic Patent Reform Bill
September 16, 2011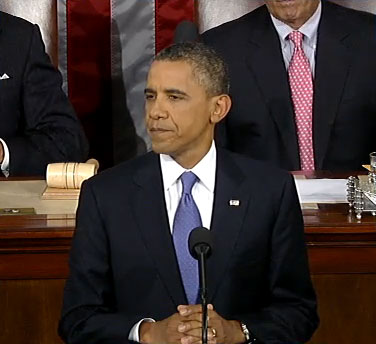 President Barack Obama on Sept. 16 signs the America Invents Act (H.R. 1249), legislation that updates the U.S. patent system for the first time in almost 60 years. President Obama on Sept. 8 had thanked the Congress for their strong bipartisan work in passing this historic legislation during his jobs speech to the nation.
"I am pleased to sign the America Invents Act.  This much-needed reform will speed up the patent process so that innovators and entrepreneurs can turn a new invention into a business as quickly as possible," said President Obama, signing the legislation during a gathering at Thomas Jefferson High School for Science and Technology in Alexandria, Virginia.
The White House press release said that this legislation will impact "key industries in which the U.S. leads, such as biotechnology, medical devices, and advanced manufacturing, depend on a strong and healthy intellectual property system." It pointed to some important provisions of the America Invents Act to help businesses, inventors, and entrepreneurs:
A fast track option for Patent Processing within 12 Months

: Instead of an average wait time of almost three years, the Patent and Trademark Office will be able to offer startups growing companies an opportunity to have important patents reviewed in one-third the time – with a new fast track option that has a guaranteed 12-month turnaround.  Patent ownership is a critical factor venture capital companies consider when investing in entrepreneurs hoping to grow their business.

Reducing the current patent backlog

: Under the Obama Administration, the patent backlog has already been reduced from over 750,000 patent applications to 680,000, despite a 4% increase in filings. The additional resources provided in the law will allow the Patent and Trademark Office to continue to combat the backlog of nearly 700,000 patent applications and will significantly reduce wait times.

Reducing litigation

: The Patent and Trademark Office will offer entrepreneurs new ways to avoid litigation regarding patent validity, at costs significantly less expensive than going to court.

Increasing patent quality

: The Patent and Trademark Office has re-engineered its quality management processes to increase the quality of the examinations and has issued guidelines that clarify and tighten its standards for the issuance of patents.  The legislation gives the USPTO additional tools and resources to further improve patent quality, and allows patent challenges to be resolved in-house through expedited post-grant processes.

Increasing the ability of American Inventors to protect their IP abroad

: The new law will harmonize the American patent process with the rest of the world to make it more efficient and predictable, and make it easier for entrepreneurs to simultaneously market products in the U.S. and for exporting abroad.  The Patent and Trademark Office has also expanded work-sharing with other patent offices around the world to increase efficiency and speed patent processing for applicants seeking protection in multiple jurisdictions.
---