By Focusing on Innovation, Both Sides of the Aisle in Washington Can Help the U.S. Make a 'Comeback'
by Eric Yeager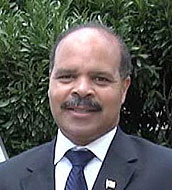 The finger pointing in Washington over the debt-ceiling crisis, the topsy-turvy stock market, and downgrading of America's credit rating should give Americans both a strong sense of alarm and a pressing reason to search our souls. Beyond the blame game and what might be in President Obama's upcoming jobs speech, Americans should look back his State of the Union address in January to find one clear answer: American innovation can bring us back from the brink and prevent the defining economic disaster from which there may be no recovery.
In that speech, Obama recognized the importance of intellectual property to America's economic recovery, saying: "No country has more successful companies, or grants more patents to inventors and entrepreneurs.… We need to out-innovate, out-educate, and out-build the rest of the world." Obama added:
The first step in winning the future is encouraging American innovation.  None of us can predict with certainty what the next big industry will be or where the new jobs will come from.  Thirty years ago, we couldn't know that something called the Internet would lead to an economic revolution.  What we can do -- what America does better than anyone else -- is spark the creativity and imagination of our people.  We're the nation that put cars in driveways and computers in offices; the nation of Edison and the Wright brothers; of Google and Facebook.  In America, innovation doesn't just change our lives.  It is how we make our living.
Despite the hope of that statement, the politically partisan cloud hanging over Washington drew concern from former U.S. Senator Alan Simpson (R-WY) in March at the National Petrochemical and Refiners Association annual meeting in San Antonio, There, as noted in an earlier Intellirights article, Simpson spoke of how Republicans and Democrats must find some common ground if the country is to have a stronger economy and smarter energy policy. "This is a very fragile time," Simpson said.
Simpson's concerns were echoed at the NPRA meeting by former U.S. Congressman Joe Scarborough, host of MSNBC's Morning Joe show, who said that "we have lost the middle in Washington. His co-host, Mika Brzezinski, was vexed by how "dysfunctional" Washington had become. The NPRA meeting was a great venue to focus on energy policy and innovations in cleaner fuels and more efficient production, but the storyline became how turmoil in Washington smothers real progress.
Still, some recent developments lend promise to Obama's speech. Both the Senate and House have passed their versions of the "America Invents Act," an important step toward reforming the nation's patent system. House Judiciary Committee Chairman Lamar Smith (R-Tex.) said this legislation is "the most significant jobs creation bill passed by Congress this year" and that he looks forward to "working with the Senate to get a bill to the President's desk and finally seeing these important reforms enacted into law."
Cheering the House action, a U.S. Chamber of Commerce press release said: "Intellectual property (IP) is a cornerstone of America's economy, with IP-intensive industries employing more than 19 million workers, generating nearly $7.7 trillion in gross output, and accountable for 60% of total U.S. exports. IP protection assures inventors that their inventions will be secure as they create jobs and build industries around them."
Also, Patrick Leahy (D-Vt.), Orrin Hatch (R-Utah), and Chuck Grassley (R-Iowa) teamed up to pass through the Senate Judiciary Committee S.968, or the PROTECT IP Act (PIPA). This bill targets rogue websites dedicated to the sale of infringing or counterfeit goods. "Protecting intellectual property is not uniquely a Democratic or Republican priority – it is a bipartisan priority," Leahy said, stressing that copyright infringement and counterfeiting kill American businesses and jobs.
News of both parties working together on the IP front is sweet music to the ears of Gary Shapiro, president and CEO of the Consumer Electronics Association. While Shapiro and CEA may not embrace every IP measure proposed in Congress (he voiced First Amendment and due process concerns about PIPA in a news interview with Intellirights), he is pleased by the cooperation between the parties and knows there is more work ahead. He is also buoyed by Google's deal to buy Motorola Mobility's mobile devices patent portfolio for $12.5 billion, a solid example of the power of IP. In his bestselling book, The Comeback: How Innovation Will Restore the American Dream, Shapiro looks at America's economic position and sees intellectual property as the power tool that can help create jobs, secure economic stability, and restore hope for future generations. No better example of this ideal is Steve Jobs, who just stepped down as head of Apple, and, as an inventor of more than 300 patents, has created one of the greatest companies and some of the finest computer products the world will ever know.
In his interview, Shapiro said that we Americans "have failed as a generation" by leaving our children in an economic situation worse than that we inherited. Republicans and Democrats must do more than just look at the remedy to our economic woes as a choice between raising taxes on the rich and cutting entitlements, he said:
The truth is we need a very complex, shared sacrifice of all Americans, and we need to focus on a strategy. And that strategy, in my view, is shared sacrifice and focus on our strategic strength, which is definitely going to be innovation.
Shapiro is correct: we need to look beyond political gamesmanship and divisiveness and design an economic strategy that invests us all in our best assets—our technological innovations. This plan for the American "Comeback" is the best hope for the future.
---