Opposition to 'MOSKONISI' Vodka Mark Is Sustained Since Applicant Failed to Rebut Evidence of No Bona Fide Intent to Use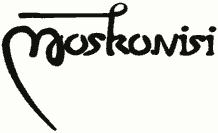 July 6, 2011
The Trademark Trial and Appeal Board on July 6 sustained an opposition to the application for registration of the "MOSKONISI" vodka mark because the applicant failed to rebut evidence that it did not have a bona fide intent to use the mark in commerce (Spirits International B.V. v. S.S. Taris Zeytin Ve Zeytinyagi Tarim Satis Kooperatifleri Birligi, Opposition No. 91163779 (TTAB July 6, 2011).
Opposer Has Standing.
Spirits International B.V. asserts ownership of an intent-to-use application, Serial No. 74382759, for the mark "MOSKOVSKAYA" for "vodka" in International Class 33. Spirits International filed this opposition in 2006 to the "MOSKONISI" vodka mark application filed by S.S. Taris Zeytin Ve Zeytinyagi Tarim Satis Kooperatifleri Birligi, which is illustrated in the stylized form shown here.
In looking first at whether there was standing to bring this opposition, the TTAB noted that Spirits International had not cited S.S. Taris's application as a bar to registration of the "MOSKOVSKAYA " mark. However, the TTAB cited authority recognizing that it is not necessary for an applicant's application to be cited as a potential bar to the registration of an opposer's mark for the opposer to establish standing. See Toufigh v. Persona Parfum Inc., 95 USPQ2d 1872 (TTAB 2010), and Lipton Industries, Inc. v. Ralston Purina Co., 670 F.2d 1024, 213 USPQ 185 (CCPA 1982). "In the present case, the arguable similarities in the marks and the arguable relatedness of the goods is sufficient for us to find that opposer has met the statutory requirement of establishing a reasonable belief of damage by showing that it possesses a real interest in the proceeding, and is not an intermeddler," the TTAB wrote.
Sufficient Evidence of No Bona Fide Intent to Use Mark.
Though Spirits International cited likelihood of confusion and lack of a bona fide intent to use as two grounds for this opposition, the TTAB found that it could sustain the opposition based solely on the latter.
Here, Spirits International's evidence was mostly based on responses that S.S. Taris gave to document production requests and interrogatories, and S.S. Taris did not provide any evidence to show that it did have a bona fide intent to use the mark in commerce. The document requests revealed no materials showing S.S. Taris's use or intended use of its mark in connection with any alcoholic product, and S.S. Taris "did not address that part of the interrogatory asking what type of alcoholic products it intends to sell, or the intended channels of trade therefor," the board noted. The TTAB said that S.S. Taris also admitted that it never obtained proper certificates or approvals from the U.S. Alcohol and Tobacco Trade Bureau or the U.S. Food and Drug Administration to import any alcoholic beverage into the United States, and that it has not applied for or obtained a license or permit from any state in the United States to sell an alcoholic beverage.
The TTAB continued:
Opposer's submission of these responses is sufficient for opposer to satisfy its initial burden of proving that applicant did not and does not have an intention to use its applied-for mark on or in connection with alcoholic beverages, which includes some of the goods identified in both of the opposed classes in applicant's application. The burden thus shifts to applicant to come forward with evidence which would adequately explain or outweigh the failure to provide such documentary evidence. As previously noted, applicant submitted no evidence whatsoever, nor did it file a brief. Therefore, applicant has failed to rebut the opposer's evidence, and the opposition on the ground that opposer lacks a bona fide intent to use its mark on all of the goods identified in the opposed classes of its application is sustained.
Spirits International was represented by Bingham B. Leverich, Marie A. Lavalleye, and Hope Hamilton of Covington & Burling, Washington, D.C.
S.S. Taris  was represented by Jess M. Collen of Collen IP, Ossining, N.Y.
---