United Brands Accuses Anheuser-Busch of Infringing Copyrights and Trademarks Related to "Joose" Malt Beverage Drinks
November 4, 2010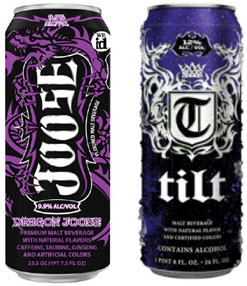 United Brands on Nov. 4 filed a suit in a U.S. federal district court alleging that Anheuser-Busch is infringing the copyrights and trademarks in its "Joose" malt beverage drinks (United Brands Inc. v. Anheuser-Busch Inc., S.D. Cal., No. 10-cv-02281, 11/4/10).
United Brands's complaint asserts that Anheuser-Busch infringes the registered copyrights and trademarks related to the "Joose" malt beverage drink by using confusingly similar elements in a competing drink called "Tilt."
The complaint states that:
Defendant completely changed the design and began selling TILT in cans featuring a dragon design that closely resembles the design of Plaintiff's DRAGON JOOSE cans (see below for new design). Defendant's use of these intentionally similar and infringing design elements is likely to or has caused confusion as to source, affiliation, or connection with Plaintiff, and also constitutes copyright infringement. Plaintiff brings this action to prevent Defendant from infringing Plaintiff's marks and copyrights, and prevent confusion in the marketplace, and to address related state claims.
United Brands was represented by Nancy O. Dix, Christopher James Beal, Brian Behmer, and Christina D. Yates of DLA Piper US, San Diego.
---